memory packed into the Aspire T Series. Visuals are enriched by powerful graphics, from new
Intel® HD integrated graphics, to support for high-performance NVIDIA® GeForce® and AMD Radeon™
cards. Now you have the power and performance to keep pace with your computing needs.
The
modern look
of the smooth front surface with a polished finish adds to your contemporary style.
The remarkable
case design
of the Aspire T Series is elegant and functional. The embedded optical drive,
recessed into the front surface, adds function while maintaining the integrated architectural appearance.
It is conveniently located just above the front-mounted ports and jacks.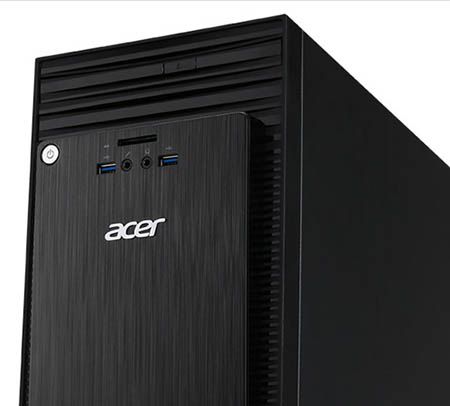 The Aspire T Series grows with you. Fit in all your media libraries and artistic accomplishments, with
select models offering expandable storage up to as many as six drives, each with up to 3 TB capacity.
Along with the full-size hard drive and optical drive expansion bays, select models also provide PCI and
PCI-e expansion slots. And of course there's also the added convenience and security of Acer BYOC™ Apps.